Simulated Navigation Course 
Simulated Electronic Navigation Limited SEN L
NetSim Training.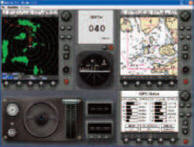 This course will prepare you for, and may be required to obtain your Fishing Masters Certificate. 
Click Here to Get Transport Canada Marine Information to Learn More About Obtaining Your Fishing Master IV Certification!
WHAT WILL THE ELECTRONIC EQUIPMENT NAVIGATION COURSE TEACH?
The course will provide students with the knowledge, and the ability to operate and demonstrate the skill required for the proper operation of typical navigation electronic equipment found on board coastal vessels.
WHO IS THE NAVIGATION ELECTRONIC TRAINING FOR?
ENTRY LEVEL: MASTER LIMITED, DOMESTIC AND FISHING CERTIFICATES OF COMPETENCY
NetSim is an electronic navigation simulator that enables trainees to complete blind pilotage training and reduced visibility exercises using computer-based training principals and approaches. NetSim trainees develop voyage planning, radar watchkeeping and collision avoidance experience using an integrated RADAR, GPS, ECS and helm interface.
To further enhance NetSim's training benefits we have added, trainee briefings and simulation exercises that are designed to introduce electronic navigation concepts. The combination of these tools and practical training exercises improves learning and enhances both skills and knowledge of operators in real emergency situations.
ARE THERE ANY PRE-REQUSITES FOR THE SEN L NAVIGATION Course?
A Candidate Document Number (CDN) is a TRANSPORT CANADA requirement before we can issue your certificate. You can still take the course but try to have your CDN prior to class. Click here for application
COURSE DATES             TIME
October 16 to 18   0900 to 1630
LOCATION: NORTH VANCOUVER, Classroom 1 – 901 W 3rd. St. , Griffin Centre
PLEASE READ LOCATION DETAILS ONCE REGISTERED TO CONFIRM!
COST                              4 Days $624.75
Group rates available At your site or ours.
We are completely mobile with our Mobile Training Centre, serving Vancouver and surrounding area's.
Phone:    604 – 998 – 3399
Email:    courses@quicknav.com