Marine Emergency Med A3 Course
Small Non-Pleasure Vessel Basic MedA3 Training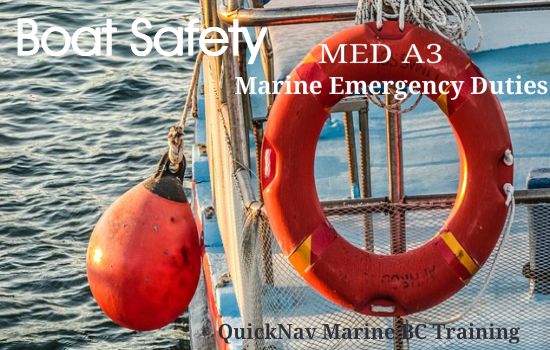 In this one day course you will learn the Marine Emergency MedA3 Duties related to boating emergencies.
MEDA3 is not a first aid course (while marine medical first aid concerns medical injuries) MED A3 "Marine Emergency Duties" is concerned with responding to emergency situations and boating disasters.
Learn how to respond to emergencies on ships with this TC certified course.
Book Your Marine Emergency Duties Today!
604 – 998 – 3399   courses@quicknav.com
Who is this Course for:
MED is for Crew Members, 16 years of age of non-pleasure vessels including, but not limited to: Commercial Fishing, Crew Boats, Work Boats and Tugs up to 12 meters.
What will I learn:
MED-A3 gives you a basic understanding of the marine hazards and emergencies, including;
Hazards & risk management, prevention & vessel stability
Fire Emergency Response
Survival & Lifesaving equipment use
Distress signaling including flares, DSC Radio & EPIRB Beacons
Cold water emergency response
Coastal search & rescue procedures
The ability to provide assistance in fire and abandonment situations
If you require the SVOP Small Vessel Operators, you will also need a MED A3 certification at a minimum. 
Price: 211.25 Includes Manual & Taxes
Note: Soon to be the SMALL NON-PLEASURE DOMESTIC VESSEL BASIC SAFETY in 2017



Register Today! and Get your MED A3 Pre-Study Manual Online
to Lean About QuickNav Medical Marine First Aid Courses Click!
COURSES AVAILABLE AT THE FOLLOWING LOCATIONS:
North Vancouver
Vancouver Island
The Yukon
Alberta
Group Courses Available. Contact QuickNAV to setup a personalized MED A3 Training at your site or ours. We travel throughout the Province or Canada to administer courses for our clients. We have instructed many 1st Nations Communities up and down the BC Coast and on the Mainland. 
MED A3 COURSE INFORMATION AND LOCATIONS
VHF radio is another course you may require if you are running a vessel required by law.
North Vancouver Training Centre
Classroom 1 – 901 West 3rd St., North Vancouver in the Griffin Centre
Classroom 3 – 223 Mountain Highway and Main St. North Vancouver in the St. John Ambulance building behind Wendy's Next to the Coffee shop.
Price Includes Manual & GST $211.25

| | | | |
| --- | --- | --- | --- |
| Date | Time | Classroom | Comments |
| August 21 | 09:00-16:30 | Classroom 3 | |
| September 11 | 09:00-16:30 | Classroom 3 | |
| October 9 | 09:00-16:30 | Classroom 1 | |
| October 23 | 09:00-16:30 | Classroom 1 | |
| November 6 | 09:00-16:30 | Classroom 1 | |
| December 11 | 09:00-16:30 | Classroom 1 | |