SVOP Small Vessel Operator Proficiency Course
SVOP COURSE DETAILS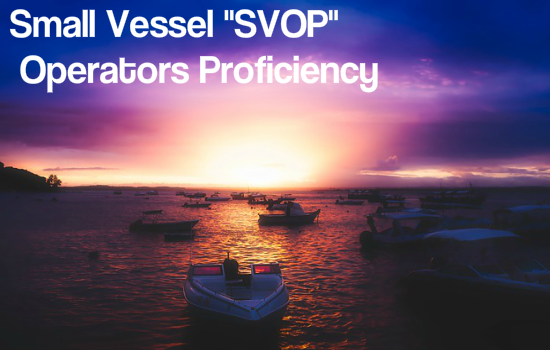 The small vessel operators course is a Transport Canada Approved 26 hour course (over 4 days) for operators of at least 18 years of age and those in charge aboard small commercial, dozer boats, non pleasure, passenger, workboats and fishing vessels up to 15GT.
SVOP Advanced Course in boat Handling, Electronic and Radar Navigation We have a portable classroom to provided the Navigation in your classroom, an added savings on fuel maintenance and wages. Call to setup this added training to suite your operational needs.
Whats Covered in Small Vessel Course
Enhance survival of yourself and colleagues in the marine environment
SVOP teaches you proper use and function of immersion suites, life jackets, PFD's and buoyant work suits
Understanding fires, fire prevention and the use of firefighting equipment
Responsibilities in an marine emergency
Understanding distress calls, rescue, and other emergency response procedures
Understanding vessel construction, drives and engines
How to secure a vessel to a floating or non-floating wharf and anchor effectively
SVOP Teaches you safe boating procedures
Understanding of the Canadian buoyage systems
Understanding and use of marine forecasts
Understanding the principle of small vessel steering including tiller and wheel control
Start-up, shut-down and maneuvering procedures
Procedures to be followed to avoid pollution of the marine environment
REGISTER ONLINE HERE!

SVOP Price including manual & NO GST
$592.25
SVOP is a Transport Canada Approved course
SVOP COURSES ARE AVAILABLE
AT THE FOLLOWING LOCATIONS:
NORTH VANCOUVER
THE SUNSHINE COAST
VANCOUVER ISLAND
BC
ALBERTA
Also Available
2 days on the Water Training in North Vancouver, BC. on your vessel
Click here for the course details
GROUP AND PRIVATE INSTRUCTION AVAILABLE
We have instructed SVOP to many 1st Nations Communities up and down the BC Coast and on the Mainland
*Click Here for the full Marine Personnel Regulations from Transport Canada
COURSE DATES AND LOCATIONS
VHF radio is another course you may require if you are running a vessel, required by law..
NORTH VANCOUVER
Classroom 1 – 901 West 3rd St., North Vancouver in the Griffin Centre
Classroom 3 – 223 Mountain Highway and Main St. North Vancouver, in the St. John Ambulance Building behind Wendy's
Course Dates
| | | | |
| --- | --- | --- | --- |
| Date | Time | Location | Comments |
| August 22-25 | 09:00 - 16:30 | Classroom 3 | |
| September 12-15 | 09:00 - 16:30 | Classroom 3 | |
| October 10-13 | 09:00 - 16:30 | Classroom 1 | |
| October 24-27 | 09:00 - 16:30 | Classroom 1 | |
| November 7-10 | 09:00 - 16:30 | Classroom 1 | |
| December 12-15 | 09:00 - 16:30 | Classroom 1 | |
Email:    courses@quicknav.com
These are very popular courses so booking early guarantees you a seat in class. Don't be disappointed by waiting until the last minute to book your course.