Take the Boat License Operators Exam Online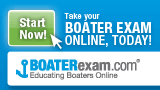 QuickNav offers marine training for all levels of boaters, but its mandatory and essential to obtain you Boat License first.  You can take the boat course online, while it may seem easy it is filled with valuable information for safe boating. Challenge the PCOC test at our Office May to July, please call for an appointment.
About the Boating License
The Boat Course is approved by Transport Canada Approved and trusted nationwide. BOATERexam.com® and is a trusted provider of boating safety courses and exams online. The Boating Exam is approved for BC and across Canada and the boating license certification is also recognized by over 40 U.S. States.
How to Enroll for the Online Exam

Click the Link Enroll Here! and get ready to obtain you boat license. Study the materials, work through the lessons,  take the exam and get your obtain your boat operators card. Once you have that you are ready to have fun as you operate your pleasure craft safely. 
Do I Need Anything Other Marine Training After the Boat Safety Card?
Once you have obtained your Boater Exam Card you can decide if you would like to further your education in Marine Boating. QuickNav offers a full line of boating courses for pleasure boat operators, Commercial Boaters or anyone who works in the field and requires certification to keep current or wants to have a career in the marine industry. 
QuickNav Marine has been teaching for over 20 years, with a fleet of training vessels and classrooms conveniently located and equipped to teach private classes and or small groups of students. For students who are seeking a more hands on approach, our Marine Training Centre offers Cruise and Learn Courses on Your Own Boat or Ours, as well as consulting for Commercial and Private Companies who need to customize training. 
If you are ready to further your Boating Education, check out our courses available or call call QuickNAV today!
We excel in Boat Safety Training!
Phone:    604 – 998 – 3399
Email:    courses@quicknav.com